On your service visit
Choices Pet Sitters
(Office): (678) 809-3647
(Mobile): (678) 253-7387
We know that pet sitting is an art built on communication and respect for you and your pets. From your first phone call to our office to inquire about services, to the in-person Meet and Greet where you meet the company manager and your primary pet sitter, you'll get an idea of who we are and how we work. Your pets get the opportunity to know us as well. Whether they are friendly, boisterous, shy, or fearful we understand that each animal has its own personal space. If you don't see the sitter reaching out to engage with your pet right away don't think it is because they don't like animals. Within our company pet sitters are taught to wait for the pet to consent to interact with us. Like you, your pets get to choose whether we are a good fit for their care.
If you and your pets decide we are a good fit for your required services we then set up a client account online where you can make appointment reservations yourself or, if you choose, you can call us to schedule appointments for you. We are working with sentient beings who may just need a little special attention once in a while. Because of special needs that might crop up unexpectedly, we don't guarantee a set visit time. Instead, you are invited to choose a "window of time" for us to visit your pets – morning, late morning, mid-day, and/or evening. If you prefer to have a more set schedule for your pets let us know and we will let you know if we can accommodate your request.

To ease your mind just before your trip, you will get a text from a Choices Pet Sitters representative 24-48 hours before your scheduled departure. (If you have scheduled weeks or even months in advance you will also get a text a week before you leave so that you know we are standing by for your upcoming pet care.) The text will re-confirm your appointment reservation (including the dates and general time of day the service will be performed) as well as the invoice cost so you can approve that our schedule matches yours.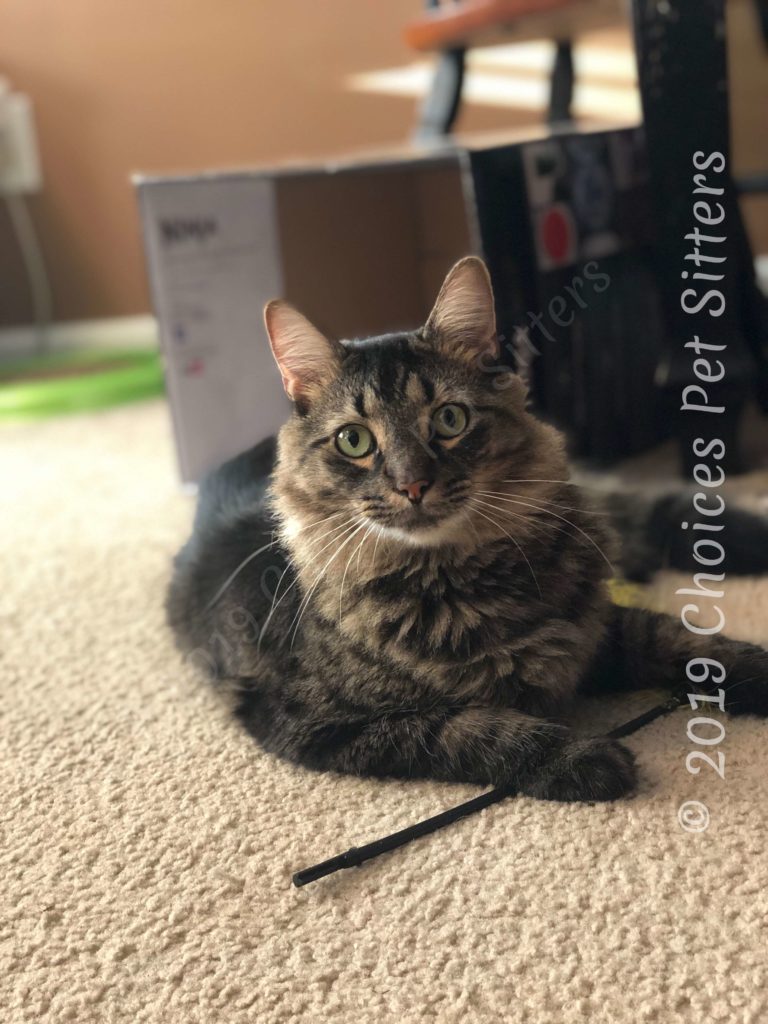 Situational awareness is important to the safety of your sitter and your pet, so on arrival, your sitter will pay close attention to security issues on the outside of your home. Your sitter will check for doors, windows or gates left unlocked or ajar. Inside they will check for items on counters that your pets may be able to reach or debris/pet accidents on the floor that the pets have left in your absence. Your sitter will make general overview notes about how much your pet is consuming and relieving themselves on each visit. (As your pet gets older this becomes very important as a second set of eyes may notice a behavior that has become second nature to you.) They will also look for anything that might be unusual about your pet's behavior. If we see your pet straining to eliminate, an increase in litter box deposits or a pet struggling to chew as it normally would this will be reported to you so you can follow up with your veterinarian when you get home. And if your dog is normally reactive on a leash but walked without reacting that day, your sitter will sing his praises and let you know of this accomplishment!
Our standard operating procedure on each visit is to clean all single-serve bowls and dishes, refilling them FIFO (first in-first out) so that new food is placed on the bottom and yesterday's food, if not spoiled, will go on top. The area around the food bowls and cat litter boxes are swept. If requested, your mail is brought inside and placed in an area out of reach of your pet and in an area where you generally leave notes for your sitter. And if you have a few indoor plants that need watering we can take care of that as well. Lights can be turned off and on or blinds/curtains opened and closed at different times to give your home that "lived-in" look.
If you have a dog, the sitter will let your pup out to run in an enclosed back yard or leash them up for a walk around the neighborhood. This information will show up in the GPS. (Note: Internet connectivity isn't always reliable in the mountains. Your home wi-fi connection will make our GPS locate your sitter at your home more reliably.) How you would like your dog to go out to relieve themselves (backyard or neighborhood walk) will be discussed in the initial Meet and Greet. Please note that while your dog may be fine to return to you off leash when you go out, this will not necessarily be the case with a substitute and your pet may not come back to a pet sitter. For this reason, our sitter policy is that all dogs must be leashed up or in a contained/fenced in area when outside during our visit.
Note: For safety and security when dog walking, we require that dogs be walked on a flat lead (no retractable leads please). We often recommend a 2 Hounds Design Freedom No-Pull harness for safety especially if your dog is leash reactive or a puller. (You can set up an appointment with us for a fitting and 30-minute dog walk, and we can even order the harness and the recommended Euro-Leash for you if you'd like us to. They come in a variety of single colors or you can choose a specialty design.)
On your dog's walk the poop is bagged, brought back to your trash can to be disposed of, and multiple photos are taken of the pets themselves if requested. Sitters will use shoe covers or change into washable slippers once inside your home to keep your floors clean. (It's just the right thing to do!) A three-sided corrugated project board is used to walk us into houses where door dashers may be a challenge. Kitty litter is scooped and bagged, and the litter box area will be swept. And finally, all pets that consent to personal one-on-one attention will receive petting and enrichment activities that should keep them comfortable and calm until the next scheduled visit. If you have been away for a number of days on a business trip or vacation, in addition to daily texts and photos, a "Call When Home" form will be left where you normally leave notes and information for your sitter. This will remind you to call and let us know that your pets are once again in your loving care.
At the end of the day, we want your time away from home to be a relaxing one knowing that you left your home and pet in the care of a trained professional. While we can't replace you as the primary caregiver, at Choices Pet Sitters we want you to feel comfortable knowing that you are working with professional pet sitters who will watch out for your pets and your home just like you would if you were home.
NOTE:
Ice and Snow – Pickens county has many curves and hills which can become dangerous in freezing temps. If black ice or snowy packed roads are possible during your time away you will need to have a backup plan for pet care. Choices Pet Sitters adheres to the requests of local officials if they recommend staying off the roads due to dangerous conditions and will not send out pet sitters if they are at risk of harm. Black ice can be hard to see especially in the early morning or after dusk hours. Skidding off the road due to weather conditions is dangerous for our sitters and we will do everything we can to ensure their safety.

Your backup plan should include someone who can walk to your home and who has a key to get inside. This can be a neighbor, family member, friend, or even a backup professional who has a four-wheel drive vehicle who feels comfortable driving in inclement conditions.
Note: We suggest getting a backup generator installed at your home for instances where your power goes out. Choices Pet Sitters is not responsible for damages to your pets (including fish tanks) or to home systems (including frozen pipes) in extreme low temps caused by lack of heat or power.


Rain and Stormy Weather– While walking in the rain may not be enjoyable for your dog they need time to relieve their bladder and bowels and walking them in the rain is not a problem for us. When thunder and lightening pop up though our sitters are restricted to staying close to your house and inside if possible. Please consider setting up a covered elimination area with quick access to the safety of the indoors if a pop up thunderstorm approaches so your pet can relieve their bladder and bowels without potentially putting them or your sitter in a dangerous weather situation. And let your sitter know where your safe area is in the event of a tornado warning.